500 % more organic visitors

after 24 months
SEO case study for dental practice
In the last 1.5 years, we accompanied the dental practice at Marienplatz https://www.zahnaerzte-marienplatz.de/ to the number 1 "dentist Munich" in the organic search on Google. A return on investment from which the dental team will benefit for years to come.
What seemed almost hopeless at the beginning of the cooperation, we achieved 2 years later. Despite one of the most competitive local and industry-specific niches, we have ranked our client the number 1 dentist in Munich.


Next to dentist "giants" and long-established Munich practices, we have managed with precise SEO strategy and implementation exactly what over 1100 dental practices in Munich have tried - to be at the top.
You can imagine the positive effect on practice utilisation at this point.
You want to know how we did it - then read on here carefully.
"After working together for about 2 years now, I can recommend Timo and his team without reservation. In the meantime, our practice has made enormous leaps in Google and generally in the area of SEO, from which we benefit daily. Everything has been optimised from A to Z, and ideas and suggestions for further improvements are still coming in.
The communication runs smoothly, at the end of the month a detailed evaluation of the current performance, ranking, etc. is sent.
We look forward to continuing to work together. Thank you for everything!"
At the start of the cooperation, the practice team received a relatively content-rich WordPress website from the previous agency. This means that many rankings were already available, but only a fraction of the rankings were in the visible position on page 1.
In addition, the transactional focus keywords such as "dentist Munich" and its neighbouring keywords were mainly on page 2 - page 3.


After consultation with the practice team, it was clear to focus primarily on the transactional money keywods in order to sustainably and continuously increase patient frequency (especially with new patients) in the practice.


In order to compensate for the lack of organic traffic at the start of the project, we started a granular search network campaign in parallel via Google Ads, with a radius of approx. 3km around the practice address, so that new patients could plan to become aware of the practice. This allowed us to start the SEO implementation in the background.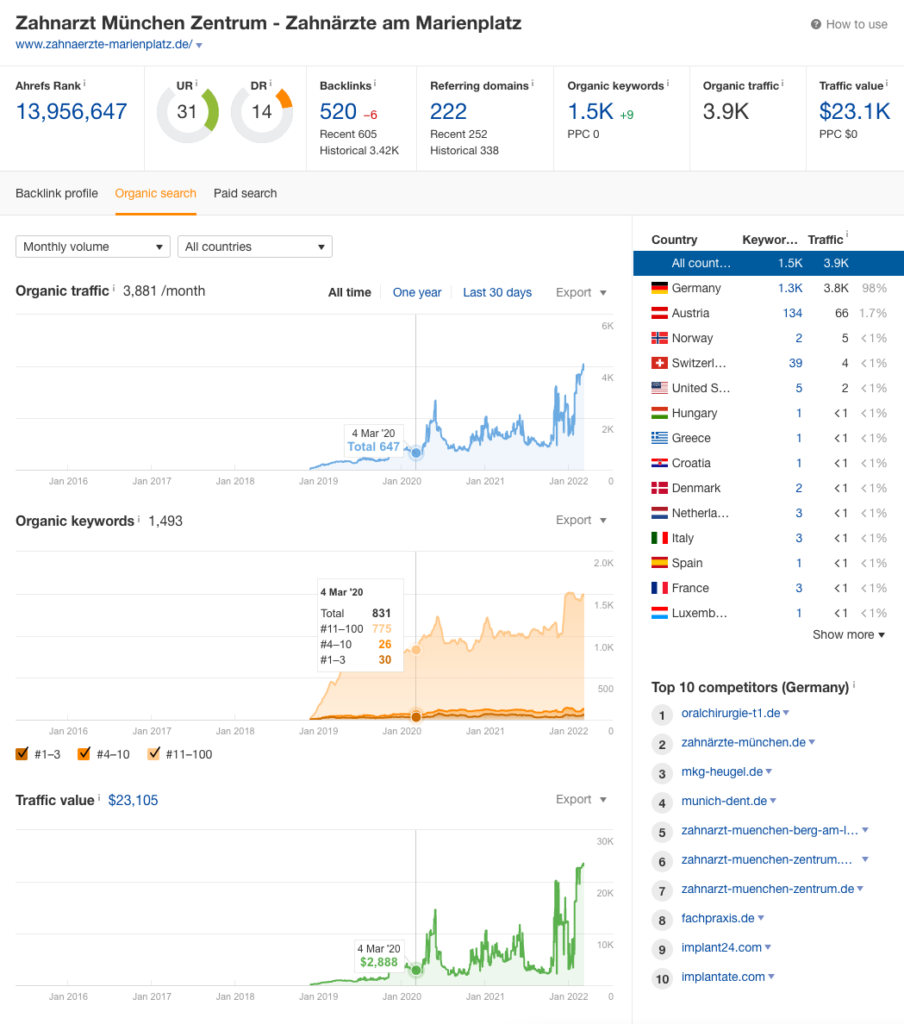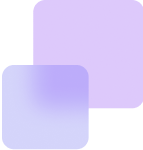 In focus: increasing domain authority
The challenge was to bundle the broad flood of content in a meaningful way in order to move sales-relevant keywords towards page 1 with the goal of a long-term ranking.


We painstakingly cleaned up the site with the important onpage basics (metas, headlines, URL structures, image SEO), optimised texts editorially and provided technical fine-tuning with structured data. This helped in the first step to rank better with many keywords, but it did not move the needle for "Zahnarzt München".


The most exciting part follows now and is called: Relevant link building!
Over a period of 2 years, we built up highly effective topic-relevant and local links with the aim of sustainably increasing the domain authority and trust of the site.


To do this, we conducted qualitative link outreach, meticulously analysed link profiles of the competition and forged a potent anchor text profile that had foundations.
The plan worked and the increase in domain authority helped to achieve the top ranking.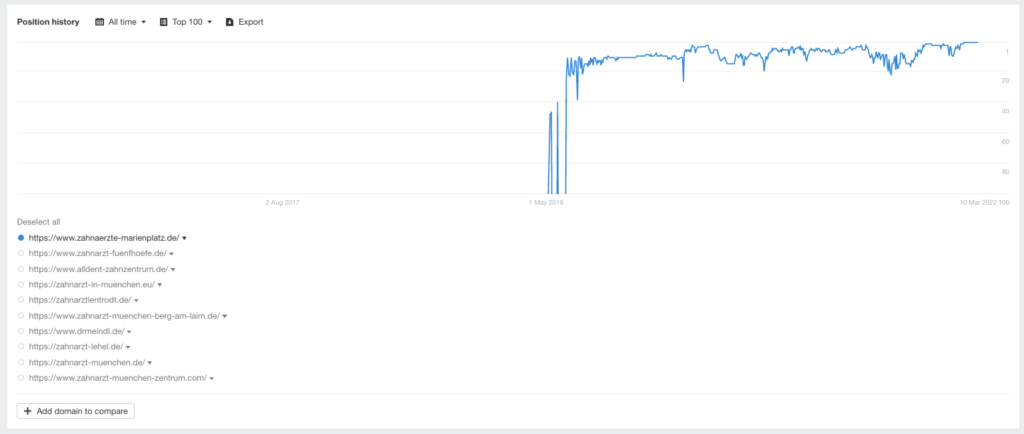 Result of

our cooperation
In addition to onpage and offpage optimisation, time was the most important factor. The patience and trust in us is highly credited to the Zahnärzte Marienplatz team.
We are proud & grateful at the same time and look forward to further cooperation with the practice team.
We have already defined further objectives for the coming months and you can look forward to seeing how we will conquer the Google Maps Pack for "Dentist Munich".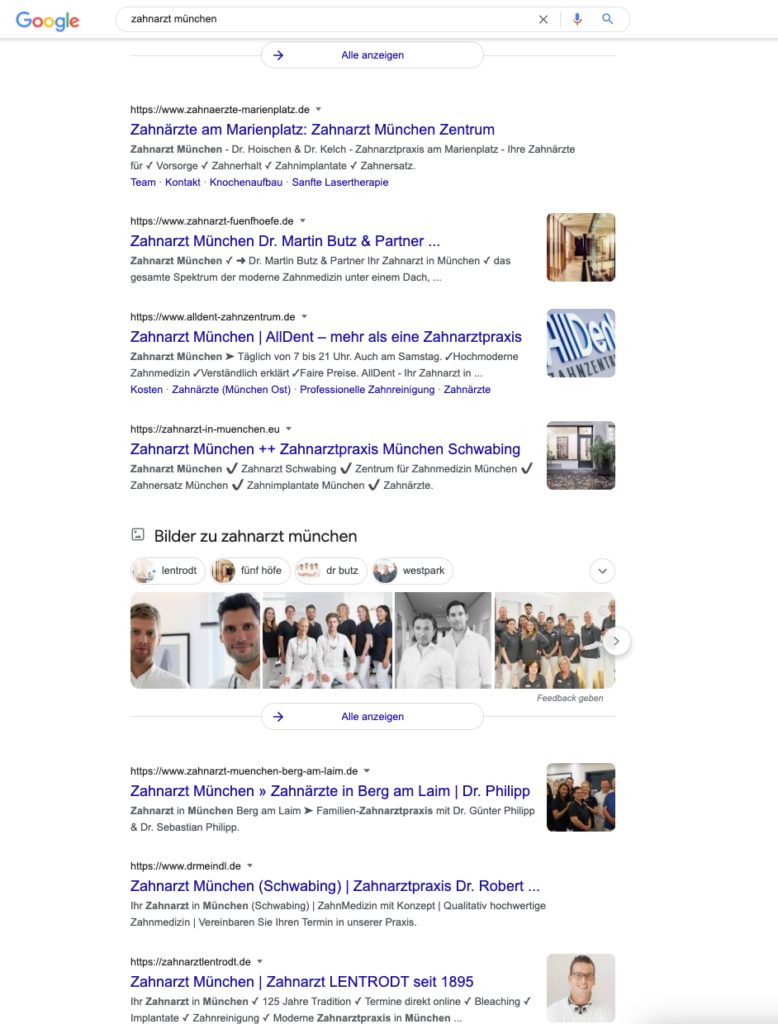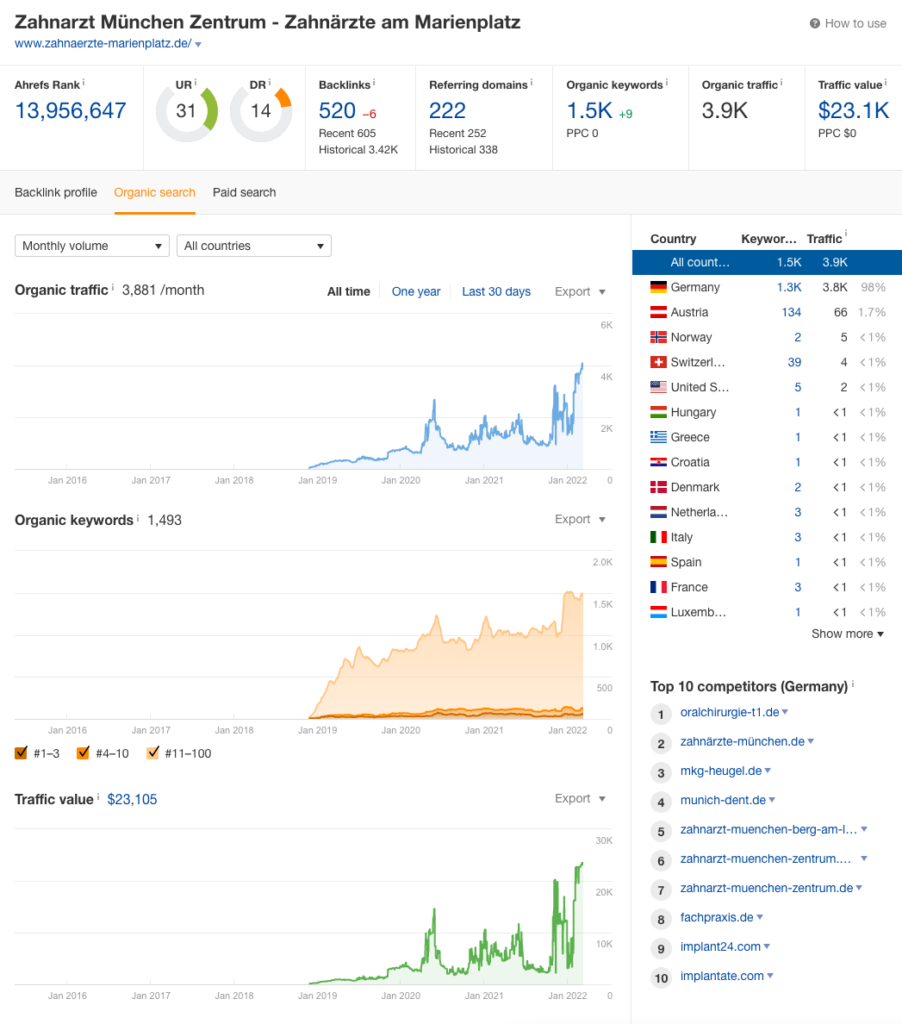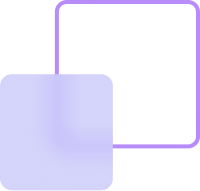 Frequently asked questions about
Local SEO for dentists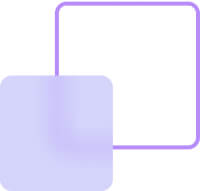 Online marketing in general and search engine optimisation in the form of Local SEO in particular offer you the following advantages as a dentist or professional in related professions:
Your practice's website will be found quickly on Google.

Increase in requests for your service and a sustained increase in new patients.

Patients in your catchment area are addressed directly.

The patient records the services of your dental practice at a glance.

Improve the presence of your website in search engines and relevant portals.

Increase traffic (visits) to your website.

Increase awareness and your image as a dentist.

With an active

online reputation management

you create sustainable trust with existing and new patient relationships.

Your competitiveness is maintained in the long term.
Dentists' websites that do not have top search engine rankings are usually overlooked and rarely if ever clicked on. Without tailor-made SEO measures, your dental practice will be left behind. This means an enormous loss of potential patients who are looking for dental treatment. They will simply turn to your competitors, who rank higher on Google and are therefore much more visible.
A local SEO agency optimises your site with numerous measures from the SEO toolbox so that it appears on the first page of Google using various search terms. It is highly visible and preferentially clicked on. Even a high-quality website in combination with an excellent range of services will be unsuccessful if the website does not make it onto the radar of searchers.
Modern Local SEO for the search engine and patients
The core of a dental practice is usually made up of patients from the local region. Local SEO is a central component of a successful SEO strategy. The search is already reasonably narrowed down with the input. If your dental practice is located in Berlin Wedding, your page will appear preferentially on search queries from this district or from surrounding districts such as Mitte, Tegel or Moabit.
The online marketing for your practice is managed in a targeted manner. Resources are bundled and not wasted by listing your practice with searchers in distant regions such as Potsdam, Neuruppin or Eberswalde. You alone decide on the dimension of your catchment area.
High-quality website content prepared journalistically
In addition to the technical features of a high-quality search engine optimisation, it is above all the content of a website that influences the ranking. It must be easy and fluent to read and captivate the patient. This increases the length of stay of the visitor. The longer a person interested in your service stays on your website, the higher the probability that they will choose your practice for an appointment.
In addition, a long dwell time has a positive influence on Google's algorithm. For the search engine, it is a decisive factor for quality. It must therefore be in your interest to present high-quality specialist information in a well-prepared language. You position yourself as an expert in the field of "dentistry" and gain authority. The more authority you have, the more people will trust you and the more likely they are to click on your page.
SEO is now a generally known term. It comes from online marketing and originally describes advertising measures tailored to online shops that ship their products nationwide, Germany-wide or worldwide. For a dental practice with a regional catchment area, this scope of services overshoots the mark by far.
At SEOfolgreich, we have been specialising for years in websites that want to achieve a high ranking in Google and can only draw on a limited regional catchment area. We achieve this goal by applying the following measures and strategies, which are to be considered part of a high-quality Local SEO:
Local SEO Audit & Strategy
At the beginning of every catalogue of measures for Local SEO for dentists, the status quo (actual state) is determined. The current status of your website is analysed and the competitive situation is classified. Various modern SEO tools are used.
In this early phase of local search engine optimisation, the focus is also on an exchange with you as a dentist. For this purpose, we have prepared a detailed catalogue of questions, which you should take the necessary time to answer. In this way, we can better assess what your professional goals are and use this information to determine the necessary measures.
OnPage optimisation
This involves modifying the structure of your website so that it can meet the challenges of local search requirements.
OnPage optimisation is the basis for the search engine to recognise and "read" your content. At the same time, it leads to a better user experience, which convinces users of your services.
Local content marketing
In order for your website to be found, it needs appealing and informative content. SEOfolgreich is deeply involved in the matter of specialised dental content.
In addition, we have many years of experience in the creation of local conditions. We develop subpages that refer to these requirements and take into account the individual needs of your dental practice.
Google My Business optimization
Google My Business is a management tool that can be used to further develop company-related information so that it is always kept up to date. It is comparable to the analogue business directory, the "Yellow Pages" of the Internet, so to speak.
In order to exploit the potential of this comprehensive tool, knowledge of the current guidelines is required. SEOfolgreich provides you with our know-how in this regard and ensures that any problems that may arise are quickly solved.
Citation Building
Citations are the so-called NAP data (Name, Address, Phone) or contact data of a company. The more often these are found by Google on the internet, the more important the company is considered by Google. The higher the chance of visibility in the local search on Google Maps.
Citation building is therefore one of the focal points of high-quality local SEO. Through our years of experience in search engine optimisation for dentists, we know the relevant citation sources and use them optimally for your practice.
Local link building
Local link building supports the ranking of your site by encouraging people from your catchment area to engage with your website.
The combination of informative content and appropriate outreach ensures that the authority of your page increases and the trust in the same is maintained.
Online reputation management
A large number of internet users base their decisions regarding the choice of dentist on reviews and ratings. Positive reviews build trust and strengthen patient loyalty. Negative reviews can quickly cause your practice to drop in the rankings and become invisible to future searches.
A long-term strategy that incorporates these evaluation processes and, if necessary, applies regulatory measures, prevents a sudden loss of confidence.
Google Ads
Google Ads, as a paid form of advertising, is an important and very effective component of Local SEO. It is regionally oriented and works with keywords relevant to dental practices.
It is only placed with those people who are interested in specialist services or are considering a visit to the dentist in the near future. Compared to traditional print advertising, the costs are kept within reasonable limits and there is less wastage.
Get your free consultation now.